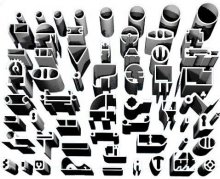 Dalle

Tôle

Barre ronde

Tube / Extrusion / Profil
AMS QQ-A-250/10
/

AlMg3Mn

/

5454

/

H24 / H34
| | |
| --- | --- |
| Chemical Properties | % Value |
| Silicon (Si) | 0,00 - 0,25 |
| Chromium (Cr) | 0,05 - 0,20 |
| Manganese (Mn) | 0,50 - 1,00 |
| Magnesium (Mg) | 2,40 - 3,00 |
| Copper (Cu) | 0,0 - 0,10 |
| Titanium (Ti) | 0,00 - 0,20 |
| Iron (Fe) | 0,00 - 0,40 |
| Zinc (Zn) | 0,00 - 0,25 |
| Aluminium (Al) | Balance |
| | |
| --- | --- |
| Physical Properties | Value |
| Density | 2.68 g/cm³ |
| Melting Point | 602 °C |
| Thermal Expansion | 23.6 x 10^-6 /K |
| Modulus of Elasticity | 70 GPa |
| Thermal Conductivity | 130 W/m.K |
| Electrical Resistivity | %34 IACS |
| | |
| --- | --- |
| Mechanical Properties | Value |
| Proof Strength | 230 |
| Yield Strength | 300 |
| Elongation A50 mm | %12 |
| Modulus of Elasticity | 70 GPa |
This alloy is primarily used in areas where good formability is required, it is used in O, H112, H32, H34;
to specification ASTM B209 Tempers and is an excellent choice for large pressure vessels and certain marine fabricated products. The formability is at its best in the soft 0 temper, but also sometimes used in H32 or H34 tempers too. However the strength and corrosion resistance are not always as good as other alloys, so as always a marine structural engineer should be consulted for each application.
Aluminium alloy AMS QQ-A-250/10, 5454 has s imilarities to the following standard designations and specifications ;
Alloy 5454, UNS A95454, ASTM B209
ISO AlMg3Mn, AMS QQ-A-250/10
5454
is supplied in a wide range of tempers:
O - Soft

H111 -

Annealed and slightly strain-hardened (less than H11) during subsequent operations such as stretching or levelling.

H112 - Slightly strain-hardened from working at an elevated temperature from a limited amount of cold work (mechanical property limits specified).

H32 - Work hardened by rolling then stabilised by low-temperature heat treatment to quarter hard

H34 - Stabilised - A low temperature thermal treatment or heat introduced during manufacture which stabilises the mechanical properties and relieves residual internal stress, plus usually improves ductility

H36 - Strain-hardened and stabilized - 3/4 hard.

H38 - Strain-hardened and stabilized - 4/4 hard (fully hardened)
5454
is supplied in plate, strip and sheet.
Mechanical Properties
Thickness (mm)
Proof Strength (Min.)
Yield Strength (Min.)
Elongation A50 mm %
Over 0.2 up to & incl. 0.5
270 MPa
325 MPa
%4
Over 0.5 up to & incl. 1.5
270 MPa
325 MPa
%5
Over 1.5 up to & incl. 3.0
270 MPa
325 MPa
%6
Over 3.0 up to & incl. 6.0
270 MPa
325 MPa
%7
Over 6.0 up to & incl. 12.5
270 MPa
325 MPa
%8
Over 12,5 up to & incl. 25,0
270 MPa
325 MPa
%7