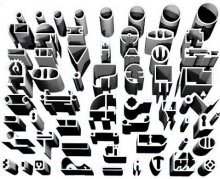 Plates

Sheets

Rod / Round Bar / Flat Bar

Tube / Extrusions / Profile
AMS 4044
/

AlZn5.5MgCu

/

7075

/

O
| | |
| --- | --- |
| Chemical Properties | % Value |
| Silicon (Si) | 0,00 - 0,40 |
| Chromium (Cr) | 0,18 - 0,28 |
| Manganese (Mn) | 0,00 - 0,30 |
| Magnesium (Mg) | 2,10 - 2,90 |
| Copper (Cu) | 1,20 - 2,00 |
| Titanium (Ti) | 0,00 - 0,20 |
| Iron (Fe) | 0,00 - 0,50 |
| Zinc (Zn) | 5,10 - 6,10 |
| Aluminium (Al) | Balance |
| | |
| --- | --- |
| Physical Properties | Value |
| Density | 2.81 g/cm³ |
| Melting Point | 477°C |
| Thermal Expansion | 23 x 10^-6 /K |
| Modulus of Elasticity | 71.7 GPa |
| Thermal Conductivity | 173 W/m.K |
| Electrical Resistivity | %33 IACS |
| | |
| --- | --- |
| Mechanical Properties | Value |
| Proof Strength | 120 MPa |
| Yield Strength | 240 MPa |
| Shear Strength | 150 MPa |
| Elongation A50 mm | %12 |
| Modulus of Elasticity | 71.7 GPa |
7075 O Sheet is an aluminum which is used in many places.The most important aspect is the process-tolerance relationship.
ALLOY DESIGNATIONS
7075 O has the following standard designations and specifications.
Sheet as; AMS QQ-A-250/12, AMS 4044,ASTM B209
Alclad Sheet as; AMS QQ-A-250/13,AMS 4048,ASTM B209,WL 3.4374,DAN 424,EN 2092
Oneside Alclad Sheet as; AMS QQ-A-250/18,ASTM B209
Extrusion Seamless Pipe as; AMS QQ-A-200/11,ASTM B241
Cold Drawn as Rod,Flat Bar,Wire as; AMS QQ-A-255/9,AMS 4187,ASTM B211
Cold Drawn Seamless Pipe as; AMS-T-700/7,DIN 3.4365, A-Z5GU
Choosing Factors for 7075 O
Strength: Average
Machining: Poor
Weldability: Normal
Formability: Weak

Corrosion Resistance:

Moderate

Heat Treating:No
Some Well-Known Applications for 7075 O:
In part that need quick change in various project,especially in military project .
Chasis for bicyles and similar light mobile vehicles.
Mechanisms like locks and keys.
7075 O is supplied in plate / sheet , bar / round bar / flat bar, and tube / profile / extrusions form.
Plate

Sheet

Rod / Round Bar / Flat Bar

Tube / Extrusions / Profile
Mechanical Properties
Thickness (mm)
Proof Strength (Min.)
Yield Strength (Min.)
Elongation A50 mm %
over 0.203 up to & incl. 1.57
136 MPa
246 MPa
9.0 - 10
over 1.60 up to & incl. 4.75
137 MPa
260 MPa
10
over 4.78 up to & incl. 12.7
143 MPa
267 MPa
10
over 12.7 up to & incl. 25.4
150 MPa
274 MPa
10