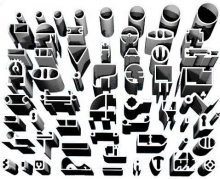 Platten

Blech

Rundstangen

Rohre / Extrusion / Profil
AMS QQ-A-225/3
/

AlCu6BiPb

/

2011

/

T4
| | |
| --- | --- |
| Chemical Properties | % Value |
| Silicon (Si) | 0,40 Max |
| Copper (Cu) | 5,00 - 6,00 |
| Lead (Pb) | 0,20 - 0,60 |
| Iron (Fe) | 0,70 Max |
| Zinc (Zn) | 0,00 - 0,30 |
| Aluminium (Al) | Balance |
| | |
| --- | --- |
| Physical Properties | Value |
| Density | 2.82 g/cm³ |
| Melting Point | 540 °C |
| Thermal Expansion | 22,9 x 10^-6 /K |
| Modulus of Elasticity | 70 GPa |
| Thermal Conductivity | 150 W/m.K |
| Electrical Resistivity | %39 |
| | |
| --- | --- |
| Mechanical Properties | Value |
| Proof Strength | 140 MPa |
| Yield Strength | 310 MPa |
| Elongation A50 mm | %18 |
| Modulus of Elasticity | 70 GPa |
Aluminium alloy 2011 is a high mechanical strength alloy that machines exceptionally well. Often called a Free Machining Alloy or 'FMA' it is well suited to use in automatic lathes.
ALLOY DESIGNATIONS
Aluminium alloy 2011, AMS QQ-A-225/3 is covered by Standard BS EN 2100 and has similarities to the following standard designations and specifications:
2011, ISO AlCu6BiPb, 3.1655
UNS A92011, BS FC1
TEMPER TYPES
The most common tempers for 2011 aluminium are:
O - Soft

T3 - Solution heat treated, cold worked and naturally aged

T4 - Solution heat treated and naturaly aged to a substantially stable condition.

T8 - Solution heat-treated, cold worked and then artificially aged.

T451 -

Solution heat-treated, stress-relieved by controlled stretching and then artificially overaged (between T73 and T76). The products receive no further straightening after stretching.
SUPPLIED FORMS
2011 aluminium is supplied in round bar.
Mechanical Properties
Thickness (mm)
Proof Strength (Min.)
Yield Strength (Min.)
Elongation A50 mm %
Up to & incl. 60
125
275
%14