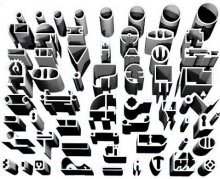 EN AW
/

Al99Cu

/

1100

/

H14
| | |
| --- | --- |
| Chemical Properties | % Value |
| Silicon (Si) | 0,00 - 0,95 |
| Manganese (Mn) | 0,00 - 0,05 |
| Copper (Cu) | 0,05 - 0,20 |
| Iron (Fe) | 0,00 - 0,95 |
| Zinc (Zn) | 0,00 - 0,10 |
| Aluminium (Al) | Balance |
| | |
| --- | --- |
| Physical Properties | Value |
| Density | 2.71 g/cm³ |
| Melting Point | 643 °C |
| Thermal Expansion | 23.6 x 10^-6 /K |
| Modulus of Elasticity | 69 GPa |
| Thermal Conductivity | 220 W/m.K |
| Electrical Resistivity | %40 IACS |
| | |
| --- | --- |
| Mechanical Properties | Value |
| Proof Strength | 120 MPa |
| Yield Strength | 130 MPa |
| Shear Strength | 76 MPa |
| Elongation A50 mm | %9 |
| Modulus of Elasticity | 69 GPa |
Low strength aluminum alloy has excellent corrosion resistance and satisfactory anodizing and conversion coating finishing characteristics. It is unmatched by any other commercial aluminum alloy in workability.
ALLOY DESIGNATIONS
Aluminium alloy EN AW 1100 has similarities to the following standard designations and specifications ;
Alloy 1100 UNS A91100, ASTM B209
DIN Al99Cu
The most common tempers for 1100 aluminium are:
O - Soft

F

H14 -

Strain-hardened - 1/2 hard.

H18 -

Strain-hardened - 4/4 hard (fully hardened).
SUPPLIED FORMS
1100 aluminium is supplied in in plate, sheet, extrusions and bar.
Plate

Sheet

Bar

Extrusions