Engineering
First Turkish Satellite in Space, Imaging Device with the Highest Resolution in the World*, First Turkish Frigate, World's Smallest Portable Ice-Cream Machine**, Turkey's first Unmanned Marine Rescue Vehicle, Turkey's first Unmanned and Missioned Helicopter, Turkey's first Carrier Hybrid Rocket…
With its 18-year experience in "Engineering and The Original Material Supplying" Referans Metal has developed around 174 projects in addition to projects mentioned above.
Design
Projects in pre-production (i.e. drawing, design, modelling) stage, are subjected to preliminary assessment by our highly qualified staff at Referans Metal. Our staff deliver their opinion to improve any project. In line with our customers' need and expectations (including cost, time, durability, reference, prestige or invention, etc.), the project under development is technically optimised.

The Original Material Supplying
Following the design process, the "The Original Material" is determined based on our engineering analyses and Referans Metal's 18-year professional domestic and international experience. Does customer's primary need overlap with the engineering analyses? This overlap is the most important parameter used in determining The Original Material.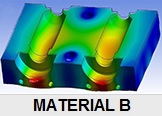 The additional value arising out of this decision rests with the customers. If The Original Material need of our customers expects in terms of finance, it results in cost advantage. If The Original Material need of our customers expects accelerating the pre-production and production processes, it results in shortening the time and deadline. If The Original Material need of our customers expects to overcome some technical problems, it results offering a deep technological know-how that can confidently serve as a reference.
Performance & Experience
Design, Engineering and The Original Material Supplying processes require particular patience and precision. The final data, received at the end of these processes, always yield results above and beyond expectations. The major reason behind our quick and satisfactory solution, which saves our customers of R&D and engineering costs, is that Referans Metal has developed innovative solutions in more than 170 unique projects for 34 different sectors in 28 countries.
Referans Metal is the one and only company to serve The Original Material Supplying in Europe.
* 2013
** 2012